Our Team Forest develops inventive technology that is used in various forestry managements to preserve the forests and to improve the productivity and safety of forestry. We aim to achieve innovative forestry and forest preservation in the near future with the advances in robotics development. Much consultation is done between the project participants, who are specialists in forestry, machinery, and administration. Experimental operations are conducted frequently in the mountains, and the results are fed back to our research and development team.

Manipulator System Cutting and Felling Trees(Since 2010)
We are researching and developing some manipulator systems that can cut and fell trees safely.

WOODY: "Robot Assisting Forestry Work"(Since 2003)
The woody can climb trees by holding onto the trunk, and can prune branches with its cutter at great heights. The robot has two parts that allow it to perform multiple tasks. One part enables it to climb trees; the other part, which can be replaced, can prune and thin branches and carry out other forest management operations. The robot can assist forestry workers in difficult terrain.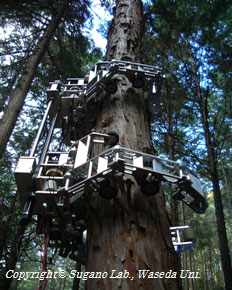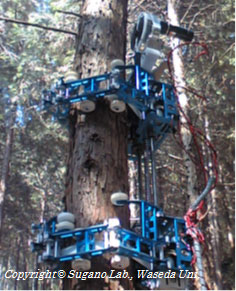 2005 World Exposition, Aichi, Japan: "Ai-Chikyūhaku"
We demonstrated the "woody" robot assisting in forestry work at the 2005 World Exposition in Aichi, Japan, which is rendered as "Ai-Chikyūhaku" in Japanese. The woody was exhibited in the pavilion "Chubu Community Millennial Symbiosis" throughout the period of the exhibition. We also demonstrated this robot at the "Morizo & Kiccoro Exhibition Center" during Robot-Week of the exhibition.